We all want to stand out in the crowd — or feed — but an effective social media strategy takes time and energy. Consider these recommendations, get organized, and make a plan to ensure a positive return on the effort you put into developing your UC Santa Barbara social presence.
Planning
Social media is a powerful tool that helps to build brand awareness, raise visibility, and encourage conversation. Recognize that starting an account is a commitment for you, your team, and your department. A successful online presence requires loyalty, time, focus, nurturing, and feedback. A quick checklist for the starting essentials:
Confirm leadership support.
Establish an objective.
Identify your audience and goals.
Consider the social media platforms that best align with your goals, objective, and target audience.
Understand the resources available to you.
Define a workflow process for getting input and approval on social posts.
Prepare a succession plan in the case of staff turnover.
Remember, a successful social media plan need not require a presence on all platforms. When in doubt, pick the most appropriate platform and do it well.
Social Media Strategy
Consider using a social media content calendar to help run and maintain your social accounts. A social media content calendar is a document that visualizes your content strategy by tracking all posts for the week/month/year. This gives control over publishing and allows you to focus on the big picture rather than day-to-day posting. If you would like to use our social calendar template for your accounts, please email socialmedia@ucsb.edu.
Operate your social accounts efficiently by scheduling posts ahead of time, as appropriate. In addition to Twitter's Media Studio, Facebook offers a native scheduler called Creator Studio — robust with various scheduling options and the ability to target audiences. Publishing platforms are also a great resource for executing your social media strategy. Choose one that best fits your needs, stays within budget, and aligns with your goals.
Finding the best times to post can be challenging because there is no universal time that applies to all social media accounts. A good place to begin is to do some research on the "optimal times" for posting across each platform. Afterward, begin making adjustments to your posting schedule and checking platform insights to see if there are positive/negative changes. Even after you've settled on a rough timeline for posting content, continue to test new times and try new things. The digital world is constantly changing, and being flexible and adaptable will help you succeed.
Aim to strike a balance between sharing and listening in your social media management. Social listening presents an opportunity to track, analyze, and respond to conversations about your organization. Monitoring this information helps you gain new insights on your audience and to act on them in the future.
Details matter. A successful social media presence is reflected by content that is visual, succinct, and consistent. When posting, always tailor the information to platform-specific content. Being specific allows you to craft messages that resonate and speak directly to your audience. If you plan to share the same link or image across multiple platforms, be sure to customize your messaging. For example, this tweet and Facebook post show two tailored messages about the same topic: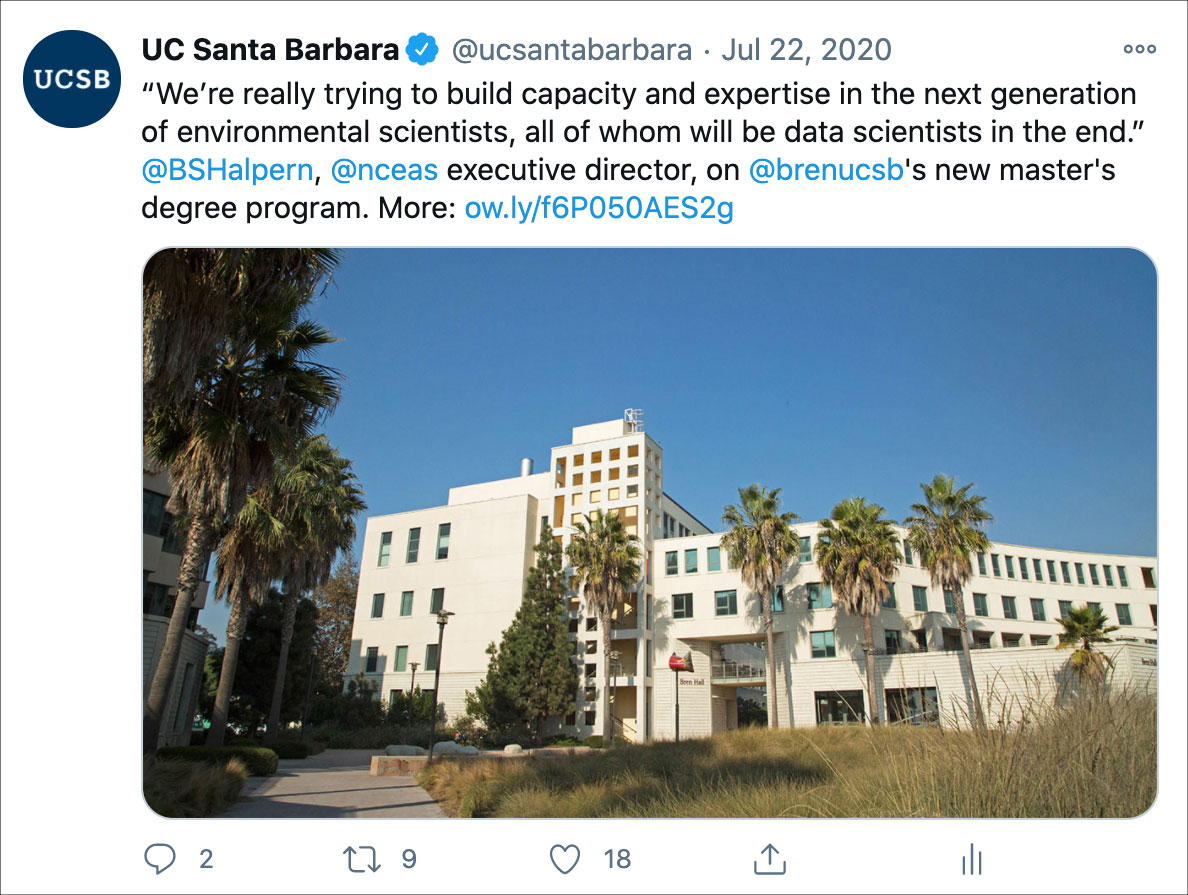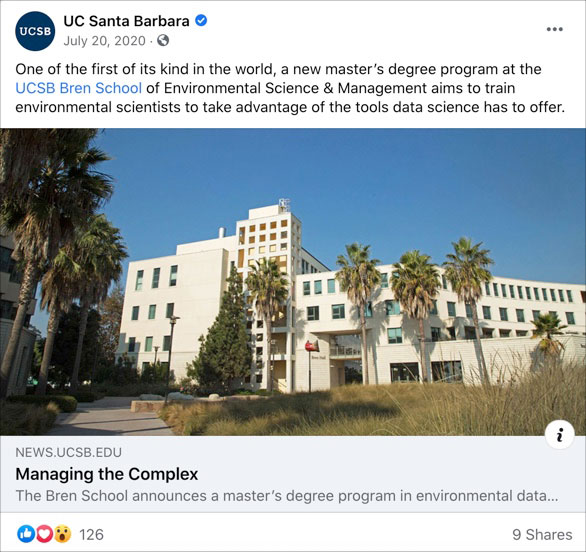 Identify relevant hashtags and tag related organizations. Hashtags increase awareness by putting your content in front of people beyond your immediate followers. Be sure to search the hashtag beforehand to ensure it is up-to-date and currently in use for being used for the wrong reasons. Choose specific and unique tags that are directly related to your community. For examples, refer to the "Standardized Hashtags" section above.
Focus on post quality over quantity. People follow social media accounts that they trust will provide content that is reliable and relevant to them. While it is important to post actively and regularly, make sure your content is engaging and relates to your audience community.
Content Creation
When generating visuals for social media, refer to the UC Santa Barbara Visual Identity Guidelines for pointers on the proper use of color, typography, and more to maintain consistency. Consistency is key for establishing brand recognition and familiarity, which aids in strengthening pride and loyalty among the university's audience.
Photography is one of our most widely used and influential identity assets. When commissioning a photoshoot or finding stock imagery, remember that natural light and photographic composition are key elements that define our campus imagery. Another resource available to you is the UC Santa Barbara Digital Asset Library, where you'll find a wide collection of photos taken at the university location and affiliated research sites.
Graphic expressions are equally important in conveying the dynamism of UC Santa Barbara. A collection of Social Media Templates can be found online and are easily downloadable for your convenience. Refer to the Visual Identity Guidelines mentioned above for proper formatting and usage of the files.
User-generated content may be used when the owner of a photo or video gives permission. This is generally acquired by messaging the user on the native platform or through email. After you have obtained permission, be sure to give proper attribution.
When posting visuals, it is imperative that you use the correct dimensions for each respective platform. This way, you avoid cropping out vital parts of the image and maintain a professional and reputable digital presence. A good site for reference is SproutSocial's Social Media Image Size Guide. For help with image resizing outside of Adobe Creative Cloud or other cloud-based content creation tools, SproutSocial also has a landscape tool that's free to use.
Engagement and Monitoring
Engagement with your audience is important because it allows them to feel heard and supported. This can look like commenting, liking, sharing relevant content by your audience. Having a good engagement rate means that your audience is connecting with the posted content.
Social media monitoring is a crucial part of maintaining your social accounts. Observe your organization's mentions and respond to the engagement around its presence. Essentially, your team should be sorting through the noise and social chatter to highlight important messages. Many publishing platforms and tools offer the ability to easily track and conduct social media monitoring. A dashboard can be set to track relevant keywords, hashtags, and media mentions.
Measurement and Growth
Measurement and analytics are key to assessing your success in social media. Use this information to better understand your audience and to inform content decisions.
Key terms and definitions:
Impressions are the number of times your content is displayed on social media. It reflects your brand awareness and serves as a base statistic for improving content posting.
Reach is the number of users who have seen your social media content, which measures the spread of the social media conversation and quantifies potential audience size.
Engagement Rate measures the interaction between your audience and the brand and demonstrates how people engage with your published content (i.e. likes, comments, shares, retweets).
Conversions are the point at which your audience performs a desired action (i.e. subscribing to a mailing list, driving traffic to a website).
Follower Growth tracks how many new followers were gained over a specific period of time. This is important for defining your social media account's overall growth.
It's worth noting that growing a following on social media is a product of dedication, creativity, and oftentimes ad dollars. Advertising creates unique opportunities to engage with your current audience and reach new followers. If you have a marketing budget and are interested in spending some of it on social media advertising to expand your online audience, contact the Office of Public Affairs & Communications by emailing socialmedia@ucsb.edu. Upon request, we are available to consult in many areas including advertising strategy.
Social Media Analytics
Access essential metrics for each native platform:
Platform-Specific Tips
If you intend to grow and maintain a presence on multiple social media platforms, keep in mind their unique characteristics—some strengths, some weaknesses. Consider these specific approaches and best practices for managing your social media presence across different channels.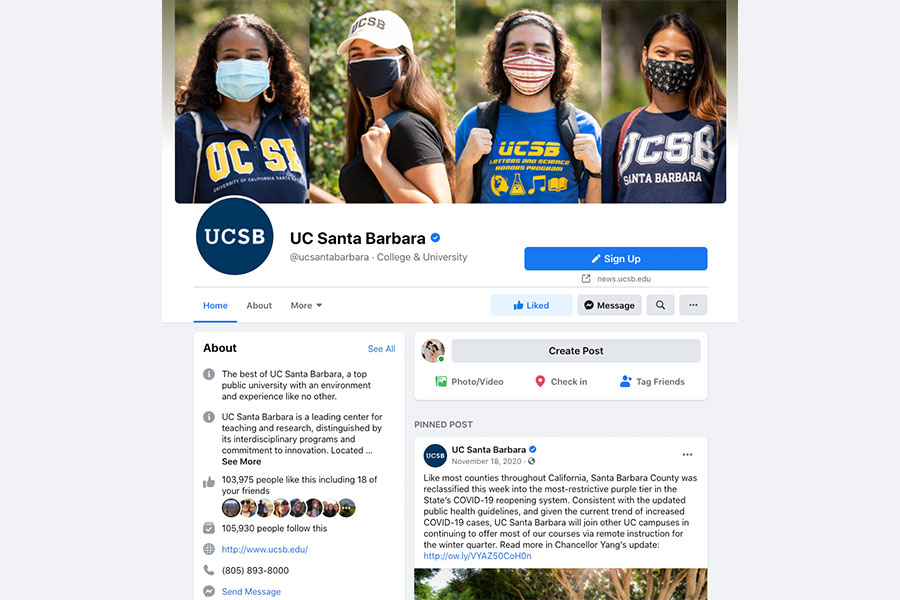 Facebook
Engage followers by crowdsourcing feedback or asking questions: What's your favorite…?, How do you…?, This or that?
Maintain a mix of photos, videos, and articles
Aim to post three times, but no less than once, per week. With enough quality content, daily posts may be well-received by your audience.
If you're planning to utilize video content, upload it natively and consider making episodic videos that are at least three minutes long.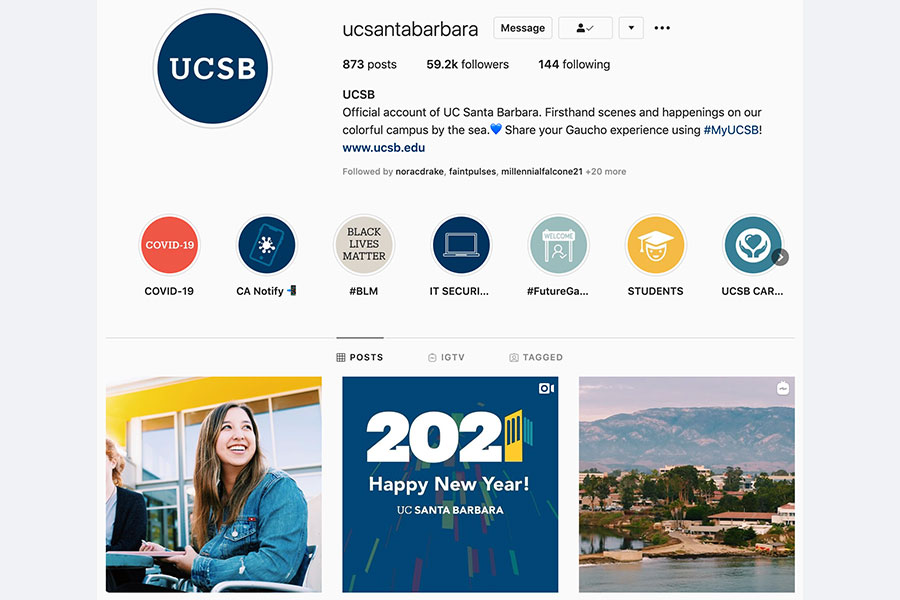 Instagram
Keep a cohesive look, from the photography in your grid to the graphic and typographic elements of your stories.
Aside from occasional lengthy takeovers, aim to keep your stories to 3-5 frames, and set them up with an introductory frame to capture attention. Utilize engagement features like Polls, Questions, and GIPHY stickers. For the cleanest metrics, try to separate stories by 24 hours.
Use highlights if you have content your followers can reference.
To avoid competition between your posts, aim to post no more than every 2-3 days.
Optimize your posts and maximize your exposure by tagging partner accounts and your location as well as incorporating a mix of widely used and more specific hashtags (no more than 5-10).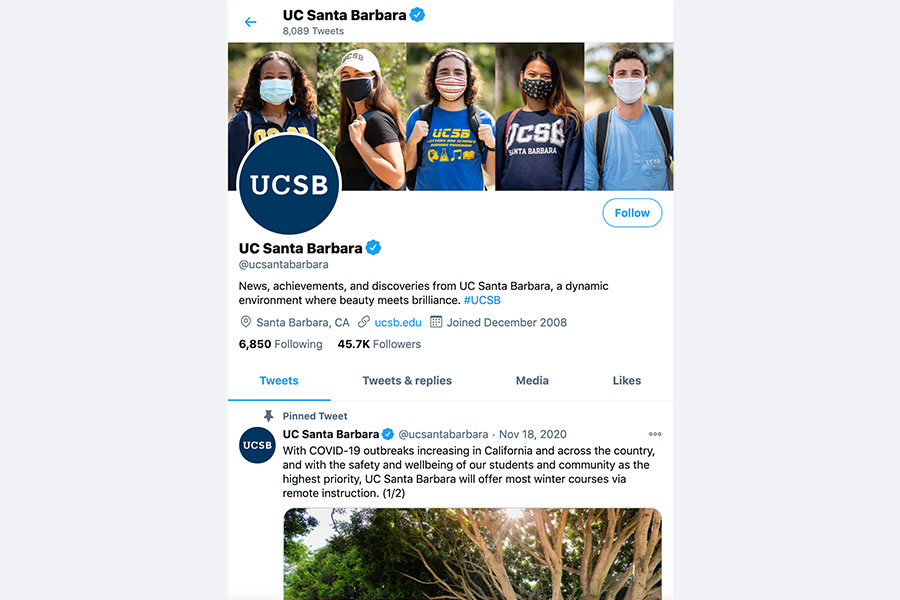 Twitter
Tap into trending topics wherever you can find relevance.
Optimize your bio with appropriate hashtags.
Utilize threads for tweeting around events or sharing detailed messages.
Your activity on Twitter can easily fluctuate. Plan to tweet at least daily, if not multiple times per day.
Be an active member of Twitter by liking relevant tweets, retweeting with and without comments, and responding to mentions when appropriate.
Register Your Account With Us
Approved profiles are added to our directory
The university's official social media directory is live! Registering your account not only gives you added exposure but also access to ongoing updates, assistance, and training opportunities.